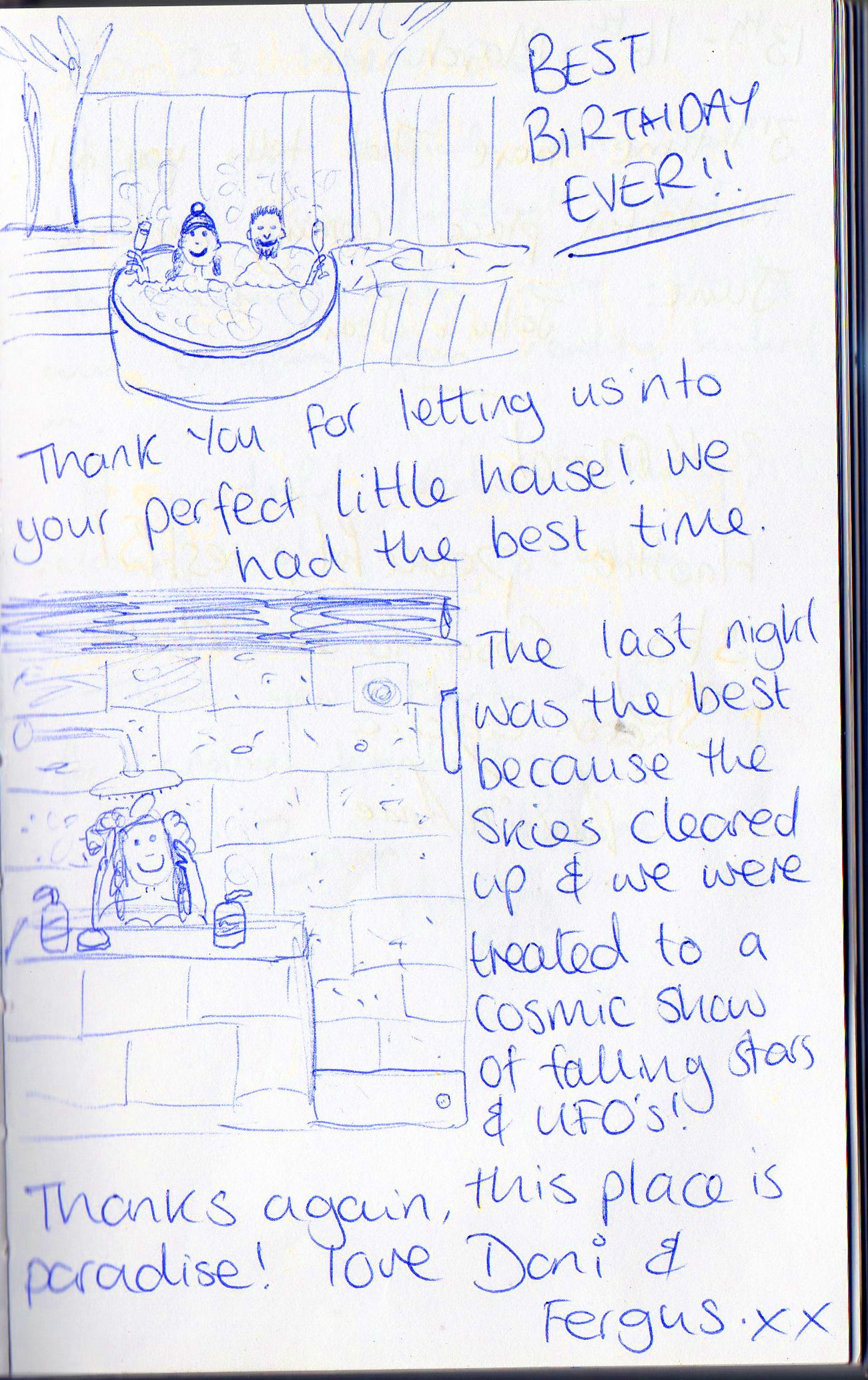 "With the wind howling and the rain pouring down, two excited northerners walked in nothing but wellies to a warm, welcoming hot-tub, it was pitch black until we looked up into the beautiful night sky. Thousands of stars sparkled so bright, it was breathtaking, amazing, quite an emotional sight. We felt so special!"
Emma & Dave
"The perfect honeymoon, a total escape to relax and unwind! The Waterhouse is the most beautiful piece of heaven… I fell in love with it as soon as I walked in the gate"
Claire and Damian
"Given the space, could you do it any better? I couldn't –fabulous garden and cabin. Can't even offer any constructive criticism Martin, sorry, nothing wrong at all. Fabulous"
John & Anne-Marie
"Will always remember this break as my boyfriend of 6 years proposed! I said yes!"
Kay
"We could tell you what a beautiful relaxing, well appointed, heavenly wonderful place this is.
We could tell you what wonderful hosts, friendly and accommodating Martin and Sharon are.
We could tell you about the hot tub next to the pond in an idyllic setting—the stellar performance of the stars on a clear night—it's magical. Enjoy the hot tub as nature intended, it really is liberating"
Ralph and Lisa
"The gardens and pond are absolutely beautiful and show the tremendous amount of hard work and passion you have for nature"
Scott & Joanna
"When we arrived I couldn't believe it! The photographs online are wonderful but don't do justice to this amazing place"
Tom & Jerry & Kai
"There are so many great touches. I wish I could take the whole lot home"
Chris and Lizzie
"After coming last year for our Honeymoon we returned this year for our first anniversary. We have enjoyed every second of being here.
The only disappointment is having to go home"
Paul and Vivienne
"First time and exceeded all expectations… you have created a piece of heaven here, thank you for sharing it with us"
Greg ,Mel, Carrie and Ellis xxx
"A truly magical stay, we had the delight of seeing the baby swallows, bats circling the pond, a owl perched at the bottom of the road and even the milky way from the hot tub!"
Jenna & Mark
"Nature, peace, comfort, inspiration-
We've had the perfect start to married life here—dreaming about making a house like this!
We love the warm, playful colours, solid woods, sunlight reaching into the house, birdsong surrounding it and birds nesting on and around it.
The sound system is great.
A total joy"
Tania and Tom
"Fantastic place-a little paradise in SW Scotland.
Peace and tranquilty in abundance"
Andy & Cat
"The Waterhouse & gardens are simply beautiful, a 1st class place to stay"[p>
David and Jena
"There are so many great touches. I wish I could take the whole lot home"
Chris and Lizzie
"After several visits to The Waterhouse we could only think of one place for our honeymoon-RIGHT HERE. It is definitely the most peaceful, beautiful place in Scotland. "
Hugh and Kay
""This is even better than Centre Parcs". As a VERY private, family get away this has been superb. We particularly loved the warm welcome (with treats),the naked freedom of the hot tub. We all feel totally un-wound and very, very clean!"
Duncan
"A magical week at The Waterhouse and The Boathouse. Wonderful welcome with home-made bread, chutney , cheese, chocs and wine.
A TRULY BREATHTAKING EXPERIENCE.
A hidden gem that is truly unique.
We've loved every minute"
Kez, James, Paul & Alice
"A beautiful house where everything was thought of.
Thought lack of (mobile) reception would be a struggle but it was actually really refreshing"-
Laura & Craig
"I am definitely the luckiest girl ever to be treated to this place for my birthday. Amazing space!
Very relaxed and recharged"
Nicola XXX
"WOW
AMAZING
TRANQUIL
ECO
ROMANTIC
HONEYMOON
ORIGINAL
UNIQUE
SERENDIPIDY
EXQUISITE
Think this sums it up" –Rachel & Fiona
"Beats any hotel hands down! Lovely hosts and nice touch with wine & bread"
Jamie & Corina
"Wonderful area-worth getting out & about as well as enjoying this fantastic garden and house!"
Joanne & Brian
"Another fantastic time at The Waterhouse. It could never disappoint. Hot tub in the open air all weathers-MAGIC"
Reeny & Jaynee
"Sad to be going & leaving our little oasis. Counting shooting stars from the hot tub will stay with us"
Janet & Richard
"The Waterhouse is such an amazing place. I felt so welcome& happy here."
Nicky & Guy
"Beautiful cosy lodge in lovely area. It has everything you could ask for, you have gone the extra mile"
Fay & Jim
"You have made a truly magical place here!
The energy the whole place has is breathtaking."
Lyn & Pete
"What a beautiful sanctuary you have created here. We had a perfectly relaxed honeymoon."
Rachel & Tim
"Simply the most relaxing and stunning place we have stayed in."
Roger & Filiz
"We are one of the happiest couples to have visited this wee haven in Dumfriesshire.
Look forward to coming back next year for our weekend of naturism. YES!!"- Angie
"You have created a paradise! The wildlife that your garden attracts is superb. Ecstatic to have found such a hidden treasure"
Caoimhe& Craig
"I was brought here as a surprise for our honeymoon .When Martin opened the gates I was speechless….The secret garden hidden away! I HAVE NEVER EXPERIENCED ANY SO BEAUTIFUL."
Lee & Louise