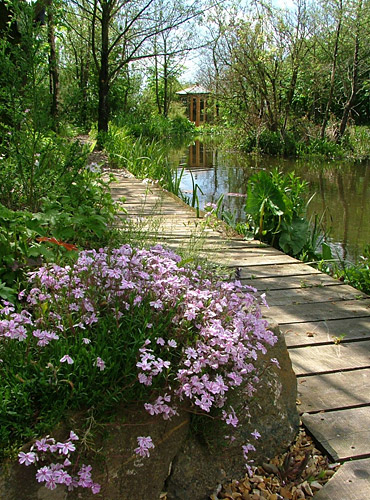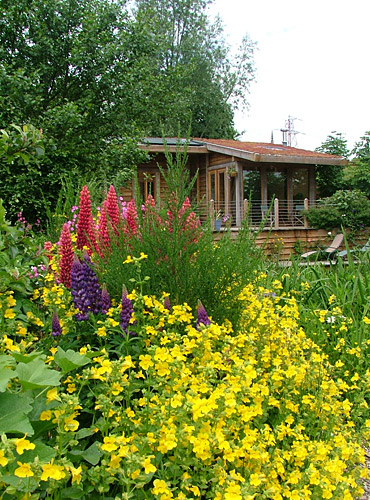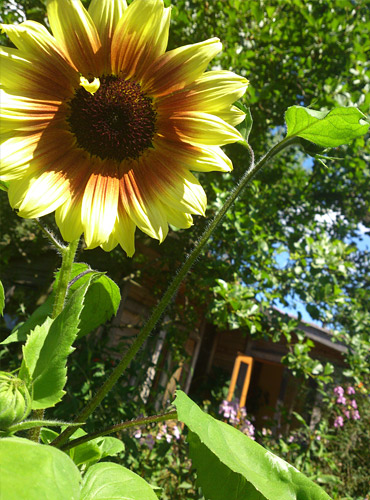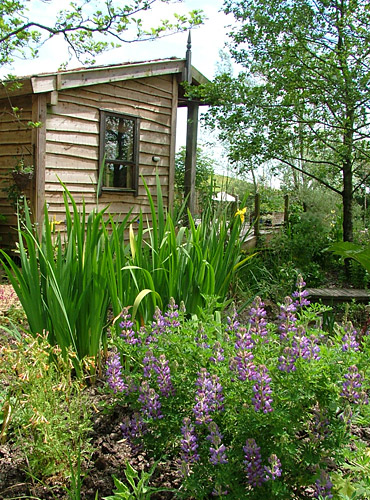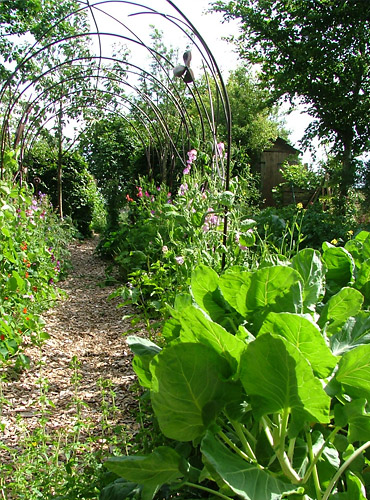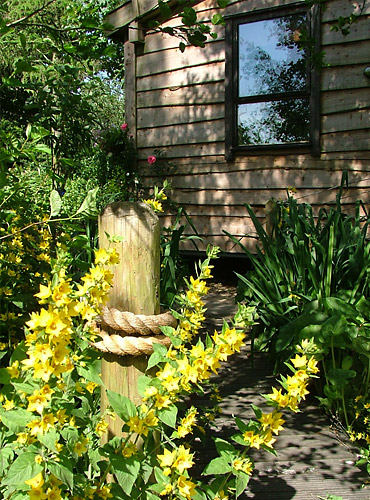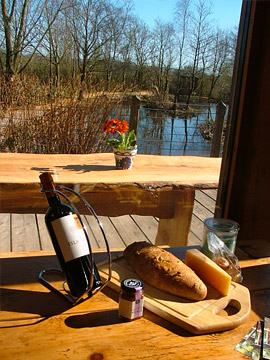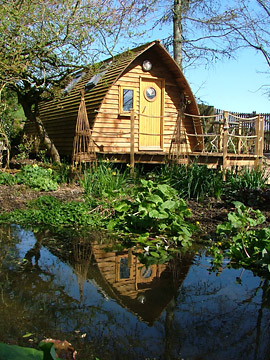 The Waterhouse retreat is a haven of peace and tranquillity set in beautiful "Bonnie Galloway", one of the quietest and least populated areas of Britain. Located in rural South West Scotland and only minutes away from a stunning coastline, secluded beaches and the jewel of the South, the Artists town and fishing port of Kirkcudbright, it is a place to gently unwind and discover the diverse beauty, natural wonders and cultural heritage of this often bi-passed gem of Scotland.
The unique, romantic ambience of The Waterhouse is an ideal romantic hideaway for honeymoons, anniversaries and birthdays, as well as a comfortable retreat for garden lovers, wildlife enthusiasts and naturists.
The Waterhouse and Gardens consist of 2 self-catering luxury lodges; The Waterhouse Lodge and The Boathouse, as well as the owners' cottage, set in one and a half acres of beautiful gardens.
The Waterhouse Lodge is a unique, hand crafted eco-wooden hideaway, built by the owners and with a living green roof. It nestles gently in a densely planted cottage garden, surrounding 3 ponds and a stream, heavily scented with roses, buddleia, clematis and honeysuckle.
It has a wrap-around south facing sun deck which overhangs a large pond. A lower deck contains a luxury Hot Tub - just one of the comforts of this romantic retreat.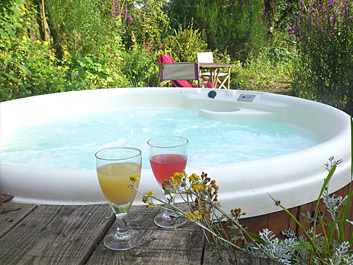 The Hot Tub is heated and used all year round - a winter treat for watching the clearest skies in Britain, as well as relaxing (relatively insect free) on summer evenings. The deck also has a log fuelled fire pit, a portable barbecue, tables for eating, seats and sunbeds.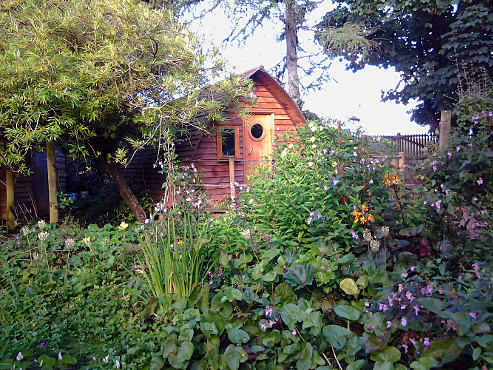 The Boathouse is a unique, glamping style wooden Wigwam which can ONLY be booked alongside the Waterhouse for larger group holidays. It is fully equipped self-catering accommodation with a double bed, kitchen/dining area, shower/W.C. The small outside deck has a table and 2 chairs. The Wigwam is a very comfortable alternative to The Waterhouse bunk beds for 2, or extra sleeping space to increase The Waterhouse capacity to 6 people.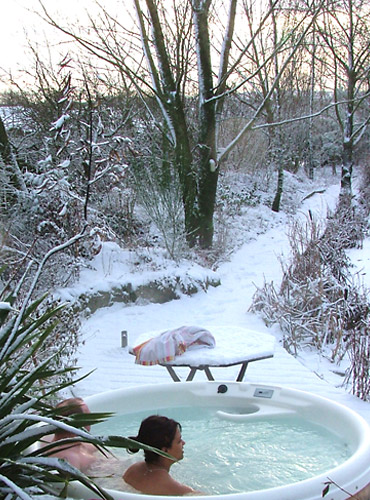 The secluded, natural garden setting of 1.5 acres allows guests to choose the freedom of being naturist/clothes optional in all areas and Lodges, especially the Hot Tub and is one of the few properties in Scotland to welcome naturism, either privately or with others. Of course, naturism is entirely optional but all visitors may (and usually do) take advantage of the luxury and comfort of using the hot tub, costume free, in complete privacy.
The Waterhouse has become a wildlife sanctuary and the beautiful gardens of this luxury retreat in Galloway are teaming with an abundance of bird species.
Swallows nesting under the eaves of The Waterhouse log cabin are commonly seen swooping across the water, along with bats, helping to keep the gardens remarkably MIDGE FREE! Deer and hares are often seen in neighbouring fields and red squirrels are reasonably common in the area. Red Kites are regular visitors over the gardens and large numbers can be seen at a nearby feeding station. The Galloway Wildlife and conservation Park is just 2 miles away.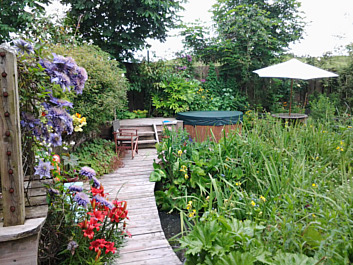 The location of The Waterhouse, close to the Southern Uplands, The Galloway Forest Park and 7 Staines Cycling route, make them an ideal base for walking, cycling and nature loving family holidays.
Beautiful walks can also be enjoyed directly from the lodges, only minutes from woodland, lochs and moorland, all freely available to guests under Scotland's "Right to Roam" laws. Breeding swans, geese, ducks and moorhens are always present on the lochs and frequently fly overhead, along with circling buzzards.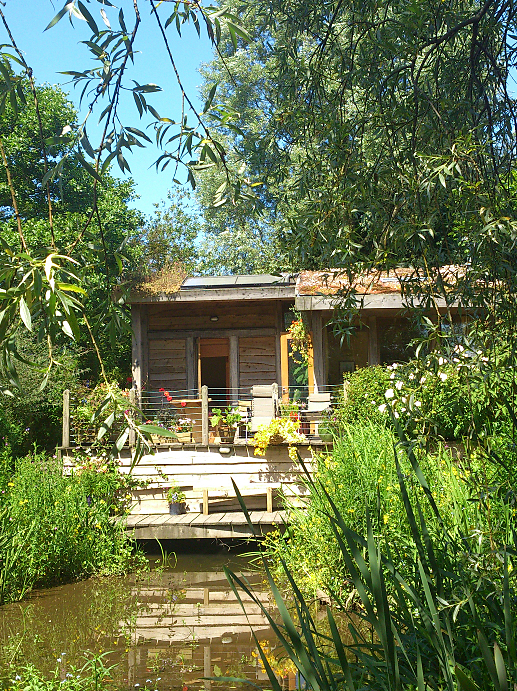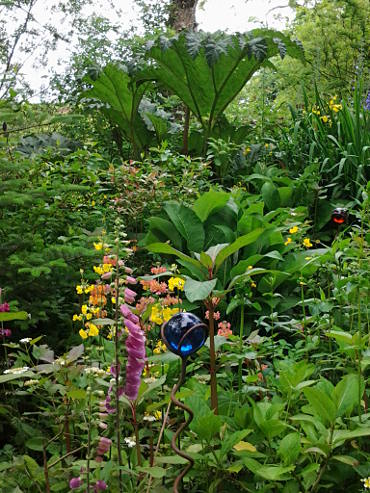 Leisurely evening meals using home grown seasonal vegetables and local meat and fish, can also be enjoyed some evenings on request, with the owners Martin and Sharon, who live in a well screened cottage in the grounds. When maintaining the gardens and hot tub, the owners are sensitive to guest's privacy, although are usually available for help or a chat.