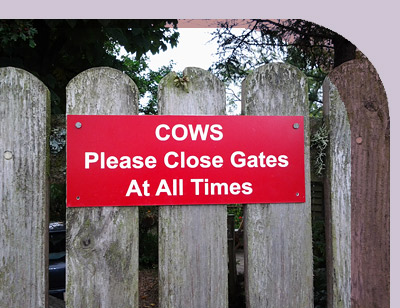 The Waterhouse Terms and Conditions
How to book:
Email or telephone (01557 331266) to make a provisional booking if you have not already done so. Complete the booking form and email/post to:-
Martin Gould
The Waterhouse,
1 Stockarton Cottage,
Kirkcudbright,
DG6 4XS.
On receipt of your booking form we will send a confirmation letter by post or email.
Arrival and departure times:
Arrival will normally be after 4.00pm and departure time before 11am.
Payment:
This should be paid within 7 days of your booking to ensure your booking. Payment is by cheque, payable to Martin Gould or by bank transfer. Sorry we are unable to take credit or debit cards.
The outstanding balance is due no later than 4 weeks prior to your arrival. Late reservations require payment in full to secure the booking.
Group Bookings A refundable deposit of £50, payable on arrival, will be required from groups larger than 4 to cover any additional hot tub water treatment, cleaning and breakages. Please see "Group Booking Terms and Conditions" emailed to you prior to your arrival.
Cancellations:
This year, due to bad weather, and a variety of unfortunate circumstances, cancellations have caused us to rethink our policy. If a holiday is cancelled by a visitor less than 4 weeks prior to the arrival date, full payment of the holiday is required. For cancellations made prior to 28 days, 80% of the full cost will be reimbursed if already paid.
Deposits may be transferred to a future holiday date under some circumstances.
We strongly advise you to take out holiday insurance.
Safety:
The supervision and safety of children is the responsibility of parents/guardians, especially around the water areas.
Pets:
1 Dog by arrangement, but must be well behaved and kept out of bedrooms (£15 supplement for cleaning).
Smoking:
Smoking is not permitted in any interior space. Smoking is permitted on the deck and garden areas.
Sanitation: We have a bio digester to treat waste. To help maintain this system effectively, please flush only bio degradable waste down the loo.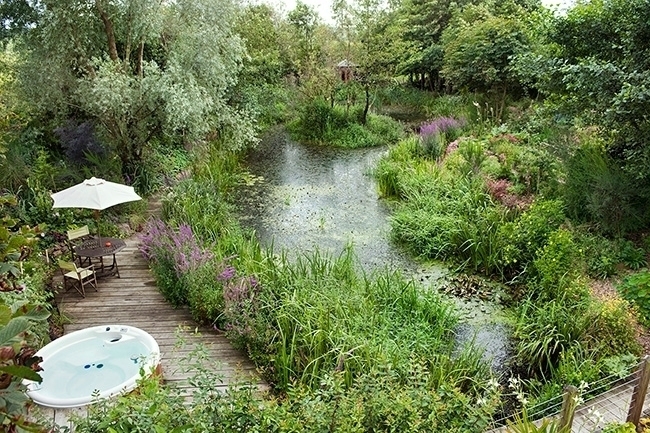 Alcohol:
Visitors are free to enjoy a drink but care is seriously advised when using the hot tub (please read safety instructions "Advice and Guidance to all Hot Tub Users") or when near the pond.
Parking:
There are 2 car parks with space for up to 5 cars. Cars are parked at your own risk and care should be taken when opening gates onto the track due to farm animals and other vehicles. All gates must be closed securely for privacy and the safety of children.
Insurance:
It is the responsibility of the client to take out an insurance policy; the owners will not be liable for losses due to late cancellations, accidents, illness, injury or losses sustained whilst on the holiday property, however caused.
Naturism:
We welcome Naturist visitors as well as non-naturist .The Waterhouse site is a naturist optional/tolerant facility and we hope visitors are willing to accept the practice of naturism, whilst not requiring visitors to be naturists or to have naturism unwillingly imposed upon them.
Damage/Loss:
Visitors are legally responsible for any damage, loss or breakages incurred during their stay. Please tell Martin and Sharon about any of the above so that we can repair /replace for next visitors.
Cleaning:
On departure, we politely ask all guests to strip the beds, sweep the floor, leave the bathroom, kitchen and appliances clean, and empty all internal bins.
Refuse:
Recycling - Bottles, cans and newspapers should be separated for recycling.
General Refuse - This should be placed in black wheelie bins marked 'THE WATERHOUSE' or 'GOULD' situated at the end of the track. All refuse is taken to Ecodeco, the recycling plant in Dumfries.
Energy use:
Electricity, gas and wood pellets are included in the holiday price. We have endeavoured to make The Waterhouse as energy efficient as we can and we trust that our visitors will use energy responsibly to prevent us from having to impose a separate charge for fuel in the future.
USE OF HOT TUB is at your own risk. It is advised that pregnant women and children under 4 should avoid hot tub use. Please read, "Advice and Guidance to all Hot Tub Users" when you arrive at The Waterhouse for your personal safety. We check the hot tub on a daily basis and have a Bromide dispenser permanently in the water and change water/filters as needed. An additional charge of £20 is payable if a water change is required during your stay due to improper use.
We do not take responsibility for any infection, adverse reaction or illness possibly connected with hot tub use.
Please do not use if you have any concerns.